2007年 04月 26日
| | |
| --- | --- |
| Rits outsourcing: Will your job be next? | |
If you are a Ritsumeikan employee working at Kinugasa campus it is impossible not to notice the new film school starting to take shape in our midst. What you may not be aware of yet is the experiment in employment practices that is already underway at the Film School's temporary home in the old administration building, Nakagawa Kaikan.
English classes for first year students at the film school have been outsourced to a company called Seico. As far as we can tell previous work that the company has undertaken includes dispatching teachers to Kansai Gaidai. Teachers on the new program are presently limited to working four koma per week, and are paid only ¥20,000 per credit hour per month. That is ¥5,000 less than even existing hijokin employees. As a recruitment e-mail for the jobs, which was widely circulated to language teachers in the Kansai area put it, "Not exactly the best job available, but it may be ideal for anyone trying to get their foot in the door to uni positions."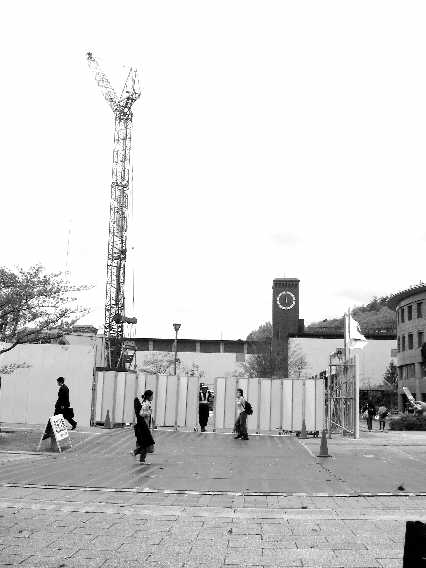 The new film school under construction at Kinugasa
More alarming is the news that faculties have been ordered to supply the administration with proposals of classes that could be outsourced from next year. While the experiment is limited to the film school at present, if the administration gets its way presently directly employed hijokin, and eventually others, may find themselves with reduced koma, or no work at all from Ritsumeikan.
Under the contracting system that Ritsumeikan is using it is illegal for the university to exert any control over the content of lessons, materials, or teachers employed. This raises questions about whether the university can take full responsibility for administration of the classes. An Education ministry notice from last year stated that any use of "ukeyoi" as this system is known in Japanese, should be limited to teaching assistants working with a directly employed teacher. Already Osaka Gakuin University, has been forced to abandon a similar scheme. Hirakata Board of Education has also recently announced it was abandoning its own "ukeyoi" scheme, and directly employing those dispatched, after pressure from the General Union.
The General Union is opposed to all attempts to outsource work. It is a threat to the jobs, pay and conditions of existing employees and exploitative of those dispatched. It is irresponsible because the obligation to obey employment laws and manage teachers is shunted from the university itself to a private company, with the university's control limited to not renewing the contract with the company. It is a vote of no-confidence in the administration's own ability to manage the education of its students. It is a threat to the education of our students, and to existing programs that are functioning well. It may come as a shock to students that chose Ritsumeikan that they are being taught by the same company that dispatches to Kansai Gaidai. In short it is a retrograde step that will hurt employees and we believe damage education at Ritsumeikan.
The General Union will be raising the following demands with Ritsumeikan management:
★ No to outsourcing.
★ No to koma cuts or cuts in employment of directly employed workers.
★ Rits should offer to directly employ all presently dispatched teachers.
General Union Ritsumeikan Branch, April 22, 2007.
Tel: 06-6352-9630
Mail: union"at"generalunion.org